A website accessibility checklist is a technique used for checking whether your website is obstacle-free for people with disabilities. Although there are many methods for improving website accessibility, a checklist is easy to understand and usable. It almost covers all the problems and will lead the organization towards a better solution.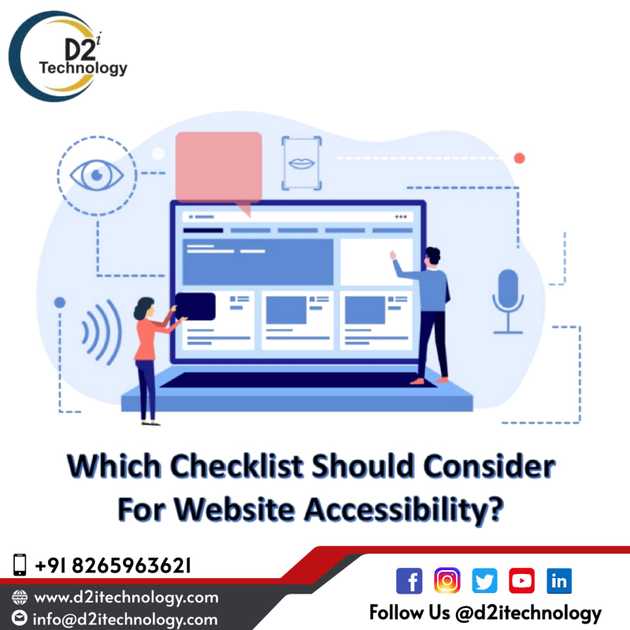 Website Accessibility Checklist
Selecting the right website accessibility is a vital decision made by any organization. These assumptions not only list the issues and fixes but also explain why they occur. The following are the categories of assumptions of website accessibility.
Images Alt Text
The screen reader is the main thing with the help of which a person with blindness or vision problem interprets what's on the website. Use proper descriptive alt-text elements should be used for understanding the webpage.
Text Resize
Must include the resizable text so that it should be readable to low vision people. It should be a challenge for designing to display text properly by enlarging it.
Descriptive Page Titles
Unique page titles will help clarify what the page is about. This enables a person who is using a screen reader to know what page is describing or about.
Video and Audio Content
Video and audio accessibility features will help people in accessing website content who cannot listen or watch multimedia content while using your content.
Keyboard Navigation
A person who doesn't have hand dexterity for using a mouse can use arrow keys or assistive technology like voice-controlled navigation. The website can be operable by including these features. A good checklist must be a mixture of WCAG 2.0 AND WCAG 2.1 as they both include universal requirements for online accessibility.